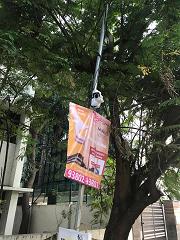 The members of the Sriram Nagar Residents Association, Alwarpet have set up a CCTV surveillance camera network in their neighbourhood.
The project, implemented with the support of the E3 Teynampet Police officials, will cover the west, south and north streets of Sriram Nagar along with various entrance and exit points of Kamakshi Nagar, North Street Extension, Cenotaph Second Lane Extension, Chitranjan Road First Street and TTK Road.
11 HD (high definition) night vision cameras will monitor the area round the clock and digital video of the same will be recorded at two secured spots.
The project will be officially inaugurated on April. 14.