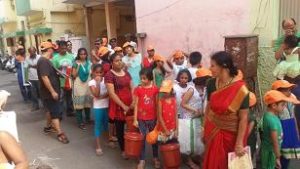 Annachi Annachi Unga Saakku Pai Yenna achi (What happened to your cloth bags) – this was just one of the slogans used by more than 30 young 'Thoomai Padai' or 'Go Green' campaigners of Raja Street and Poonga View Street of Mandaveli at the garbage segregation awareness rally held on Sunday, April 2.
The heat did not deter the kids who carried three bins, green, red and white, to denote decomposables, rejected waste and dry recyclable waste. They also handed out pamphlets with information on segregation techniques.
The rally which started off from the R. K. Mutt Road entrance at Velayutha Raja Street was flagged off with talks by B. V. Babu, AC, Zone XII, Kanmani, AE, Ward 173 and Ravi of Ramky Enviro. They urged the residents to keep the area clean and to start segregation at home. A team of Chennai Corporation and Ramky officials joined the rally, they too held banners and shouted out slogans.
Several areas including Raja Street, Velayutha Raja Street, Poonja View Street, Kandaswamy Street, TPScheme Road, Raja Gramini Thottam were covered by the youngsters.
Photo and report by Ganga Sridhar, resident of Raja Street, Mandaveli