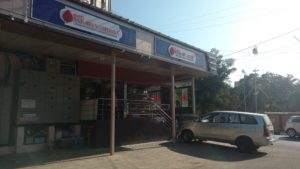 A new branch of the popular vegetarian restaurant Hotel Saravana Bhavan has now been opened at San Thome. It is located at the intersection of San Thome High Road and Muthu Pandian Avenue (near San Thome Cathedral).
The restaurant is spacious, with both air-conditioned and non air-conditioned seating areas. Separate counters for ice creams and fresh fruit juices are also present. The restaurant also offers valet parking, which will be a great help to the customers, since street parking is difficult in this area.
The basement and ground floor are occupied by this restaurant, while the remaining floors in this multistorey building are taken up by the hotel Grace Residency.