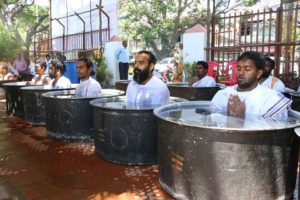 A Varuna japa parayanam,  which started yesterday morning, is on at Sri Kapali Temple till May 6.
More than 25 priests have been assembling at the western entrance of the temple tank from as early as 7 a.m. to participate in the festivities. Hymns are being recited for more than four hours in the morning to please the God of water, Lord Varuna.
This morning (May 4), a few priests were seen sitting in huge vessels of water with folded hands, praying for rain.
On the last day, an annadhanam will be held. A cultural programme which will include a nama sankeerthanam and a carnatic vocal, jugalbandi and bharatanatyam performance will follow.