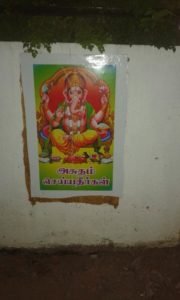 Fed up with people throwing garbage at their street corner and public urination, the residents of Jeth Nagar First Main Road, Mandaveli came up with a novel idea to discourage them. They posted a picture of Lord Vinayakar on the walls there with a small note underneath asking people to keep the area clean.
Says Ravi. N, a resident there, "The corner of Jeth Nagar First Main Road and Venkatakrishna Road was a hub for garbage for a long time. People would swing by, throw garbage and walk off. About three months ago, we put up a picture there and it has worked wonders".
The residents also plan to do the same at First Cross Street, Jeth Nagar, near the Railway station.