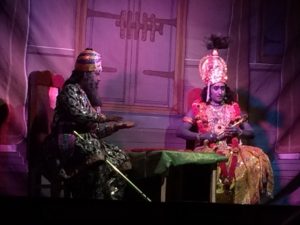 Friday evening's Thamizh drama, 'Karnan' based on the well known historio-mythological story was well-done, acted out and impressive. It brought many rounds of applause from the small audience at Narada Gana Sabha.
Importantly, the writer of this play directed by Mallikraj wove, here and there dialogues that pointed to the recent political development in Tamil Nadu. Digs at Sasikala and the AIADMK factions, tugs at Rajinikanth's recent postures. And these lines were not lost on the audience.
In some ways, Karnan's story rings many bells in today's politics.
The play, which ran for three full hours was the first of three based on historical-mythological themes presented by Brahma Gana Sabha and Sri Parthasarathy Swami Sabha; two others will be staged on Saturday and Sunday, 6.45 p.m. onwards.
Admission is free and Brahma Gana Sabha's Ravichandran says that all the three dramas are produced by troupes which are known for slick production.