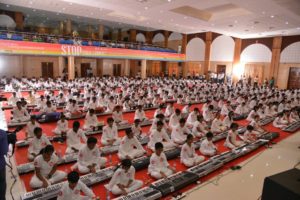 Yet another Guinness record for the largest keyboard ensemble was attempted by the students of M. S. Martin's group yesterday (May 1) at St. Bedes School's centenary auditorium, San Thome.
440 children aged 7 – 17 years performed at the concert.
Martin, a resident of Ammani Ammal Street, Mandaveli, has been taking keyboard classes at C. I. T. Colony, Mylapore for more than 25 years. He has made several such attempts in the past, one in 2011 with more than 100 students. He also entered the Limca Record book in 2009 for having organised a symphony with 75 students.