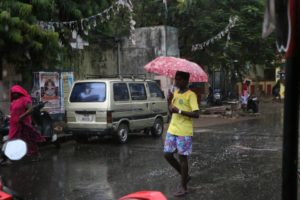 It was yet another hot day today. A little after 5 p.m. however, things changed. The gusts began. Leaves started blowing around. At South Mada Street, Mylapore, vendors had a hard time holding onto the plastic sheets  above their heads.
A little later, came the showers. Motorists at R.K.Mutt Road, Mandaveli rushed for cover. At Ranga Road, Mylapore, a father held his toddler tightly as they ran into an apartment complex nearby.
The showers lasted for less than an hour. Seen in the picture is the scene at Ranga Road, Mylapore, taken at 6 p.m. today evening.