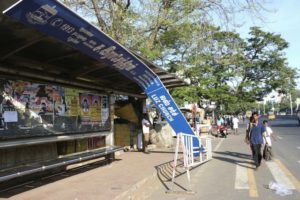 The signage which lists the MTC routes for its buses which ply through Luz Church Road had ripped off from the roof of the bus stand at Luz Circle and was seen dangling on the roadside on Wednesday morning.
This is a busy bus stop; made busier by the stream of share vans which also treat this as their junction and hang around to pick up passengers.
Most bus stands were given a smart look and design last year; Chennai Corporation fixed flex sheets which highlighted the local destinations for tourists, a project undertaken by INTACH.
Most of these flexes have been ripped off.