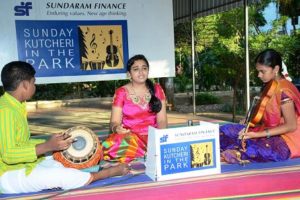 It was 14 year old S. Keerthana's turn to present the mikeless kutcheri at Nageswara Rao Park, Luz today morning. Organised by Sundaram Finance on the first Sunday of every month, this event provides an opportunity for young artistes to sing in front of an informal park audience.
Keerthana, who is learning music from Rama Narayanan, was accompanied by Haritha Narayanan (disciple of Dr. R. Hemalatha) on the violin and by Anirudh Sriram (disciple of Chrompet Suresh) on the mridangam.
Keerthana presented compositions that included Thyagarajar's melukkovaiya (bhowli/kanda chapu) and ammaravamma (kalyani/kanda chapu), Papanasam Sivam's mooladharamoorthy (hamsadwani/adi) and Muthuswamy Dikshithar's parvathi kumaram (nattai kurunji/rupakam).
No mikes and speakers are used at this event. Sundaram Finance conducts auditions to select the artistes. For details, email: sundaykutcheri@sundaramfinance.in