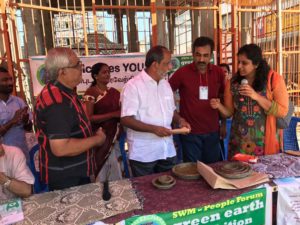 A 'Green Earth' exhibition is currently on near Sri Kapali Temple, Mylapore.
Inaugurated by Mylapore MLA R. Nataraj today morning (seen in the picture), the exhibition will showcase solid waste management solutions by various groups.
Simple affordable home composting techniques will also be demonstrated. The event has been organised by Kapaleecharam Committee.
On till 7 p.m. today. For details contact 9952960354.