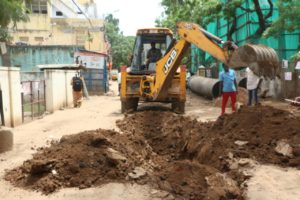 Residents of V. C. Garden First Street, Mandaveli will have to wait for a little more time before their roads can be re-laid. That is, if civic agencies keep their word.
Metro Water has started work on the special project to lay 1000 mm pipes underground. The project started about a year ago and has been delayed several times, frustrating local shop owners and residents here.
The roads can be laid only after the 'no objection' certificate is handed over to Chennai Corporation officials by Metro Water after completion of this work.
S. Dayalan, Metro Water superintendent engineer, based at Chindradripet told Mylapore times on July 17, "Work started on July 15 morning. We hoped to get police permission to work on the road during the day on Thursday, July 13 but couldn't. We got it on Friday, July 14 evening and started digging the road the next day".
When will the work be completed? "We hope to complete it in two weeks. On Saturday, when
we started digging, we again came across a structure there. So now we have to work around it and see how to lay the pipes. JCB machines and road cutters are being used to lay the pipes. In certain areas, where machines cannot be used, workers are manually digging the roads and clearing obstructions".
Mylapore Times spoke to Dayalan again on July 20. He said, "It rained on Wednesday evening when the workers were working and so we had to stop the work and pump out the water. There is a concrete BSNL structure with wires at the area where we are working. We have to break the concrete structure, move the wires and then lay the pipes. After we finish, we have to construct the structure and
put the wires back."
Why can't more people be employed to hasten this project?
The engineer says that "we have work only for six people. We also have to consider the
safety aspects. Electrical cables under the ground have to be handled carefully and we can employ only those who have had training. Every day, we train about 25 workers at our training centre at Kilpauk and educate them on how to keep safe as trenches that we dig are deep and pose dangers."
A Whatsapp group has been formed with members of local associations, the Corporation and Metro Water officials and key residents. Updates are being provided to the residents on a daily basis, says
Dayalan.
<< RESIDENTS OF THIS AREA! Keep this newspaper updated on this project. Mail to -mytimesedit@gmail.com.