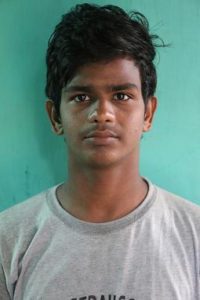 P. Jaikrishnan, a class XII student at San Thome High School, San Thome did not know how he was going to pay the fees at the school this year. Jaikrishnan's family stays at Kundrathur and he had taken up basic lodging in Mylapore to pursue his dream of becoming a cricketer.
M. Palanivel, his father, who once ran a successful business lost much due to his ill-health and was reduced to earning about Rs. 5000 a month. With three children to feed, his father had lost all hope of Jaikrishnan completing his studies.
That's when Mylapore Times office received a call from the principal of the school with a request to help him in any way we could. A cheque for Rs. 12000 was handed over to him a couple of days later.
Jaikrishnan was just one of the 32 students the Mylapore Times Charitable Trust funded partly this year, a task made possible by 29 donors and facilitated by the heads of the schools in the neighbourhood.
Take the case of S. Sandhiya, a student of St. Ebba's Matriculation School, Mylapore who was born with a deformed right hand, and who is still waiting for an artificial fitting at the government hospital.
Her mother S. Chandrika and father N. Shankar are daily wage workers. Chandrika says, "When I was pregnant with Sandhiya, a scan showed that her right arm was always near her ear. Only after she was born did we realise that her hand did not develop beyond her elbow".
Sandhiya had got admission into Anna Adarsh College, and a scholarship would help, she said. A cheque for Rs. 15000 was handed over to her and the girl has just set foot in college.
The Trust could not fund the entire needs of these students. But what was paid to them made things possible.
Baskar. M (seen in the picture) scored 448/500 marks in his class X exams. A student at the Chennai Corporation School at Sringeri Mutt Road, Mandaveli, Baskar lost his father in 2010. He has four siblings.
His mother M. Tulasi works as a maid, making ends meet was difficult for them. She managed to pay his fees at the Government Polytechnic College at Adyar. Reimbursing it will help, requested Tulasi.
The Trust handed over a cheque for Rs. 2300.
Two class 7 girls of St. Ebba's Matriculation School, Mylapore also received scholarships. One had just come out of a coma and the other was taking treatment for cancer. The donations made life that much easy for their families.
In the days ahead, the Trust and the newspaper intends to draw up a project which will network local schools that need outside help in funds and resources with Mylaporeans who can provide both or either.
For more information, contact the Mylapore Times office at 24982244.
DONATIONS FOR NEEDY
The Trust received a total donation of Rs. 2,91,500 since this project was announced in the second week of May. Rs. 2,93,000 was disbursed to the students. The Trust has on ongoing project at St Lazarus Middle School, Mandavelipakkam where it funds a lab and computer skills classes for Std.8 students here and provides for a morning gruel to poor students who attend school from the suburbs. Donations are welcome.
Report by Preeti Srivatsan