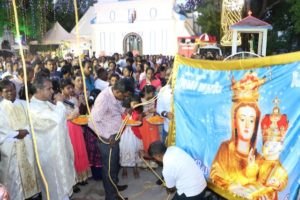 The celebration of the annual church feast of Our Lady of Light Church in Luz, commonly called Luz Church or kattu-kovil began on Sunday evening with the hoisting of the church flag in the church campus followed by Holy Mass.
Fr. Peter Thumma, parish priest led the congregation at the launch of this feast which ends on August 15, a day dedicated to Mother Mary.
Novena and Mass will be held on all days of the feast.
The first Holy Communion service is on August 13, 7.30 am and the grand car procession will take place after the feast Mass on Aug 15 evening.
This church is said to have been built in its first form in 1516 ( the year though is disputed) by a set of foreign missionaries who claimed they were saved from a storm at sea and were guided to the shore on this part of the Coromandel coast.