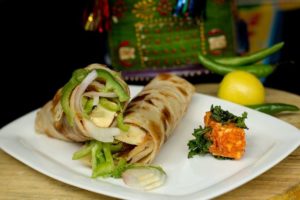 Roll Baby Roll has been open on T. T. K. Road for a couple of months now. It is a venture by Japtej Ahluwalia and Nikesh Lamba (the people behind Double Roti) and Gandharv Dhingra.
Quite a long list of kathi rolls, kebabs and curries are available at this joint, which stays open late to offer a snack to those looking for it post a late movie show.
Six types of panner rolls,  chicken and mutton variants are on the menu.
Kolcutta 'Ishtyle' or Dilli 'ishtyle' chicken rolls are the best sellers; not many vegetarian options for those looking for something other than paneer.
On T. T. K. Road, opp. Narada Gana Sabha.
Open from 12 noon to 1 a.m. Ph: 9811337803