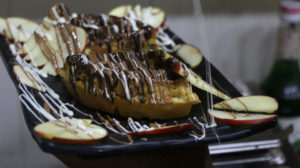 A relaxed waffle brunch, some 'pick-me-up' milkshake during the day or sandwiches for dinner – The Chocolate Heaven offers all these. Newly opened on T. T. K. Road, this is Chennai's first branch of the Mumbai based chain.
Sneha Daga and Upkar Jain are the food consultants here who have helped the owners, Rohit Bhansali, Kuldeep Jain and Prashant Jain, get the business launched. The place is decorated in a very colourful manner – brick walls, a bright wall mural and a green wall of artificial plants on one side.
'Chocolate Heaven has 8 branches so far – in Mumbai, Bangladesh and now in Chennai. Chocolates are made at our head office in Mumbai and shipped to us here', says Sneha. The menu is comprehensive – ranging from breakfast items like waffles and pancakes to salads and sandwiches at lunch and pizzas at lunch and dinner times. For dessert, try their milkshakes, sundaes or even their fondue.
'We don't use any eggs here, it is all 100% vegetarian', says Sneha. 'Our wagon freakshakes are a big hit' she adds. These are thick milkshakes, filled with bits of brownies, waffles and chocolate. She also recommends the Belgian chocolate waffle, double delight pancake and the sundried pizza.
The café is open from 11 a.m. to 12 midnight all days. Birthdays and other events can also be hosted here, customised menu can also be worked out.
Parking can be a bit of a bother for cars – valet parking will be available soon, says Sneha.
At 96A, T. T. K. Road, Alwarpet. Ph: 48552254.