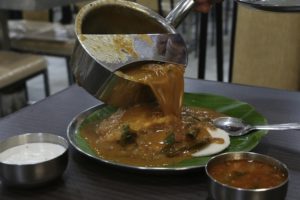 Foodies in south and central Chennai are flocking to the iconic restaurant chain of Triplicane Ratna Cafe which has opened in Mylapore. It is located on South Mada Street. And their posts on social media are generating lots of opinions and remarks.
The first set of guests who stepped in on Friday morning ordered what sells hot here – a breakfast of idlis and vada.
They did not have to ask for sambhar. It was poured. Ratna Cafe is known the world over for its sambhar. ( a set of idlis cost Rs.45 and medhu vadai is Rs.32 – prices which did not appeal to some diners who look for value for money food)
The hall is spacious and can accommodate over 75 people ( the cafe has come up where Geetanjali restaurant used to be on this road)
It has a counter for sweets and juices too.
The cafe also offers a menu at lunch time – mini meals at Rs.85. curd / sambhar rice at Rs.55 and vegetable biryani at Rs.90.
Mylaporeans who heard of the Ratna Cafe opening said they expected the food quality to be high and remain that way all through. Oldtimers recalled the idli-sambhar served at the Triplicane restaurant, food they would die for!