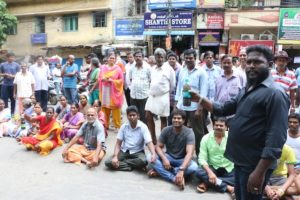 Fed up with promises, meetings and petitions residents of the V C Garden Street zone in Mandaveli where streets have been dug up and left unattended for months on end for a major Metrowater project, took to the streets this morning and held a short road roko on St Mary's Road.
Traffic came to a standstill even as local police tried to coax the crowd to move to one side.
Some people held up plastic bottles filled with dark water which they said was what flowed in their water pipes.
But they were most incensed with the attitude of Metrowater and Chennai Corporation to the local contractor dumping earth all over the place and letting it be there; this spread across the streets and made life difficult, people said.
Mylapore MLA, R. Natraj arrived on the scene and was taken around to witness first hand the civic mess and was also briefed on the project. Residents said that the Metrowater engineer there said that the area would remain messy till the work was completed.
Though much of the excavated mud has been removed recently from the zone the rain has rendered this key street messy; four wheelers cannot use this passage and when the mud dries it swirls around and pollutes the colony.