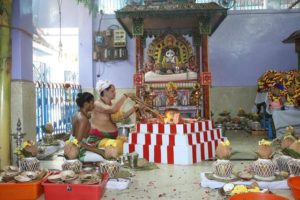 Here are events planned at some temples in the neighbourhood for Vinayaka Chaturthi…
On Aug 25, at Sri Siddhi Buddhi Sametha Sri Karpaga Vinayakar Temple, R. A. Puram, a navakalasa pooja and homam, and ekadasa rudra abhishekam and a kalasabhishekam will be held before the maha deepa aradhanai in the morning.
In the evening, the deity will adorn a sandana kappu alankaram. A veedi purappadu will follow. At 2nd Cross Street, R. A. Puram. Ph: 24328084
At Nandalala Trust at Ranga Road, Mylapore, festivities will last for three days from Aug 24-26. On Aug 24, an Arka Ganapathy homam will be held. On Aug 25, a maha abhishekam and a mothaka archanai will be held in the morning.
On Aug 26, the deity will adorn a chozhi alankaram with muthu pandal. A velli vinayakar abhishekam and coconut and achuvellam deepam and mangala harathi will be held on all the three days. Ph: 9840797301.
At Sri Navasakthi Vinayagar Temple, Luz, an abhishekam and deepa aradhanai, a celebration has been planned from Aug 23 – 29. An abhishekam and deepa aradhanai will be held everyday. On Aug 28, an unjal utsavam will be held. A veedi purappadu will be held on Aug 29 on the evening.
Music concerts and debates will be held all on the days. Noted artistes Nithyashree Mahadevan, Kadri Gopalnath (saxophone), Rajhesh Vaidhya (veena) and Veeramani Raju will perform. Raja and Dr. Illam Pirai Manimaran will participate in special debates to be held on Aug 24 and Aug 26. For details contact 24991881.
Religious events have already begun at the Bala Vinayaka Alayam on Warren Road (Bhaktavatsalam Salai) in Mylapore last week. (seen in the picture) Concerts by leading artistes will be part of the daily events here.