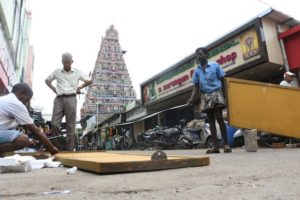 Access to Ponnambala Vadyar Street, the street that links the mada streets to the eastern gate of Sri Kapali Temple has been curtailed for vehicles.
A private NGO called Mylapore Residents Welfare Association claims it has got permission to erect road dividers at the north and south ends of the street to curtail vehicles from plying on this stretch of the road in order to ease the access for temple goers.
Earlier this week, workers were seen erecting the blocks in this area but the idea has not gone down well with all Mylaporeans. Some said that permanent blocks like this one could hamper movement in cases of an emergency.
Others point out to the fact that much of Sannidhi Street is occupied by vehicles owned by local businesses.