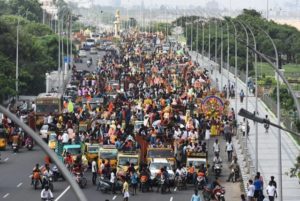 The immersion of the images of Sri Vinayaka may have been over on the Pattinapakkam coastline but the bigger task remains – clearing the waste that is thrown back on to the shore and mulling over the damage that Plaster of Paris and paint could cause to sea life.
On Thursday evening, the procession that headed to the Pattinapakkam shore was huge; traffic came to be a standstill and affected traffic flow in Mylapore's inner streets.
Police had a tough time regulating the immersion as some groups decided to carry out the acts on other parts of the seaside.
Cranes were employed to lift and drop the giant images, parts of which were washed ashore.
When the job was over, it was well past 8 p.m.