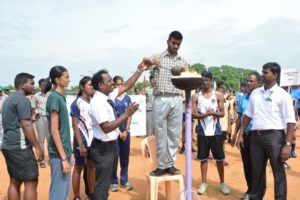 The Association of Schools of Indian School Certificate (ASISC) Tamil Nadu Region Athletic Meet held in the city on Aug 26 and 27 was organised and hosted by The Grove School, Alwarpet.
700 students from 44 schools participated. The chief guest was Dr. P. Nagarajan, Tamil Nadu chief minister's awardee for 'Best Coach – 2004'. The guest of honour was Gerry Arathoon, chief executive and secretary, Council for the Indian School Certificate Examination, New Delhi.
At the valedictory function, the chief guest M. R. Ravindra, president, Madras Boat Club, gave away the prizes to the winners.