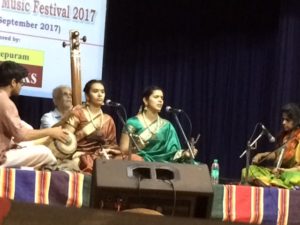 Young Carnatic music vocalists Shwetha and Ramya launched the annual Navaratri music festival of Bharatiya Vidya Bhavan, Mylapore at its auditorium on Tuesday evening.
The fest, says Bhavan's director K. N. Ramaswamy features young artistes instead of the well known seniors.
There were some 200 people in the hall though many began to leave the moment the clock struck 7.30.
The fest was inaugurated by S. Manoharan, chairman of Kanchipuram S. M. Silks in the presence of L. Sabaretnam, chairman of Bhavans. Chennai.
Every evening, there are concerts at 4.30 p.m., 6 p.m. and 7.30 p.m. at the small hall in Bhavan's campus here and these are open to all.
The fest is on till Sept.30.