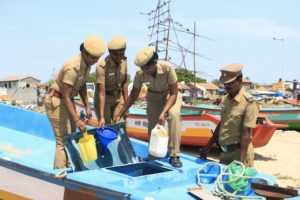 The shore of the Marina along the Nochikuppam and Srinivasapuram belt was the scene of a mock security-check operation called 'Sagar Kavach' on Wednesday morning.
State and city police, Coast Guard and others were engaged in a mockup operation that checked the readiness of the security forces to address attacks from the seaside by militants or trouble-makers.
Police were seen checking boats and fishermen, who were caught by surprise and even detaining a few who were asked to act like militants.