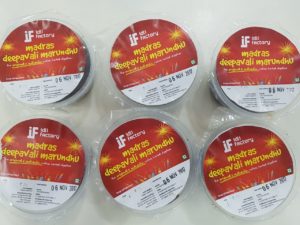 If sweets and savouries are one thing to look forward to during Diwali season, so is the Diwali special lehiyam or marundu.
If you are looking to pick up some, in addition to the sweets, or simply by itself, here are a few places:
Dabba Chetty Store – the famous nattu marundhu store on Kutchery Road sells the powder and the paste form of this marundu. You can take the powder home and cook it yourself or buy the ready-made paste. Starting from Rs. 45 (for 45 gms) for the powder and Rs. 100 for the paste. Ph: 24985125.
Subham Ganesan and Suriya Sweets – These popular caterers and sweets outlets also stock the Diwali special lehiyam. Both sell the ready made paste starting from 100gm packs. Bulk ordering is also possible.
Subham Ganesan is located at 210, St. Mary's Road, Mandaveli. Ph: 24616007.
Suriya Sweets is located on S. Mada Street, Mylapore and 1st Main Road, R. A. Puram. Ph: 24952999, 24310679.
Thaligai Restaurant – Pre-order your Diwali bakshanam from this restaurant located on Luz Church Road. In addition to the sweets, you can also your lehiyam from here. Powder and pre-made lehiyam are offered. Home delivery is also available. For details call 9791272888.
Home made marundu – Chenchulakshmi is already busy with her Diwali preparations. 'I take orders to make and deliver sweets and savouries for the festival season', she says. 'I also make Diwali marundu using by traditional family recipe to deliver to customers', she adds. To place your order contact her at 24996505, 9444849943.
Travel pack of marundu – If you dont really know what this is and just want to taste a little of the Diwali lehiyam, or to get a travel pack of the same, stop by The Gormei Market. The retail store stocks small packs of the Diwali marundu made by the idli factory. 50 gms priced at Rs. 75. On 2nd Main Road, C. I. T. Colony, Mylapore. Ph: 42172229.