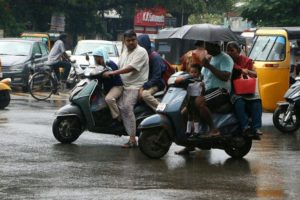 The much awaited rains are here. A little before 9 a.m. today morning it started pouring and is expected to continue throughout the day and into Tuesday.
Most of the schools in the area stayed open. Children draped in raincoats were seen rushing into school campuses.
A staff member at Sir Sivaswami Kalalaya Senior Secondary School, Mylapore says they have no plans to send the children early. "Once the children are at school, we keep them here. We don't want to inconvenience the working parents and we also feel the children will be safer here. It is always better to keep them inside when it is raining".
Several areas including parts of Warren Road, Luz Avenue (near Nageswara Rao Park), R. K. Mutt Road (near the Mylapore railway station), San Thome (outside Amma Unavagam) were seen inundated with water and office-goers had to carefully manoveur the roads to get to their destination.