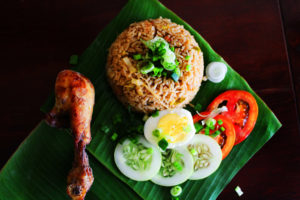 Ashvita Bistro will host a three day food pop-up showcasing Indonesian cuisine. Priyadarshini Gupta, an Amul Masterchef All India Top 30 contestant, is the chef in charge of the popup.
Dishes like nasi goreng and satay, some local street favourites like gado gado (a tangy Indonesian salad with peanut sambal), the nagasari (steamed rice flour pudding with bananas ) and traditional slow cooked delicacies like the gule kambing (meat stew) and soto syam (a one dish tangy and spicy meal) will also be part of the menu.
Available for lunch and dinner.
For reservations contact 42109990, 7338852313 or email events@ashvita.com.  On Nov 24, 25 and 26. At 11, Bawa Road, Alwarpet.