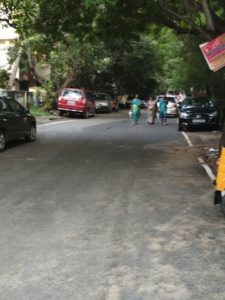 The roads and streets of many neighborhoods presented a surprise picture on Friday afternoon – they were all dry, some bone dry. And this, after the extraordinary spell of rain the previous night.
Be it in Abhiramapuram or Alwarpet, some parts of Mylapore and the are around Vivekananda College, the streets and roads were looking clean and dry save for softy patches by the street side.
Abhiramapuram resident Prabhu, a PR professional who went out "just to take in the scene" shared pictures of Abhiramapuram 3rd Street, Warren Road junction, C. P. Ramaswamy Road and P. S. Sivaswamy Salai and Bheemana Garden Street.
"Even the streets where water stagnates after a short spell of rain were dry," said Prabhu.
Obviously, the cleaning of the drains and filters had enabled the water to flow quickly. In some areas, citizens have taken the initiative to ensure the filters that stop waste from getting into water drains were cleared of muck and oversaw cleaning of the drains.
However, the spell of rain past 7 p.m. saw flooding – C P Ramaswamy Road, some roads in R A Puram and off Kamaraj Salai were flooded.