Saturday morning. There is a break in the rain. And civic workers are seen sweating it out at the trouble spots.
The Billroth Hospital traffic junction in R A Puram was flooded last night. It always does. Now 1st Main Road is also getting affected. Men were at work, often using crude methods to get the job done. Below is a picture of the spot.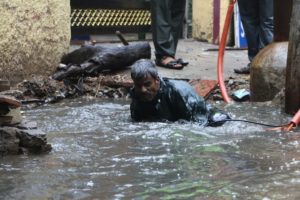 Elsewhere, workers were using pumps to flush rainwater on V C Garden Street – you may recall that this street was dug up and remained so for many many months for a Metrowater project and was partly relaid after residents staged a road roko and put immense pressure on the agency.
The photo below shows the scene on Saturday morning.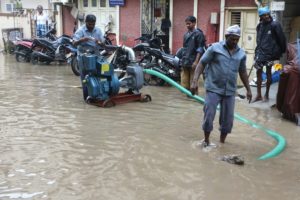 Similar teams and local police were seen on Pasumpon Muthuramalingam Salai (Chamiers Road) and Greenways Road end where TANGEDCO road cuts and work have caused flooding.
Mathangi Srinivasamurti who runs Chamiers Cafe and Boutique says Chamiers Road was flooded the past two days and remained so despite the rain break. Could water be drained into the DeMonte property alongside? "That is also flooded," said Mathangi.
A different mess was seen off Karaneeswarar Pagoda Street – the road littered with all kinds of garbage. Obviously, this has fallen off the trucks that unload waste at the RamKy waste station in the area. Photo below shows the scene.