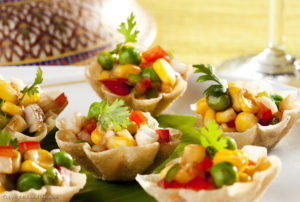 Benjarong restaurant on T. T. K. Road, Alwarpet has launched a Thai seafood festival – it will go on till Nov 30. It is in celebration of Loi Krathong festival celebrated annually across southwestern Thailand on the full moon day in November.
The Loi Krathong festival at Benjarong will feature a menu with a number of vegetarian and non-vegetarian dishes that are traditionally served during the festival in Thailand.
Loi Krathong takes its name from the words 'Loi' meaning float and 'krathong' meaning small baskets or rafts. These are made from banana leaves and contain incense, lotus flowers and candles which are lit and set to float in water after making a wish. This is in the belief that the krathongs carry away bad luck and signal a fresh start.
You can light a lamp, set it afloat and enjoy the specially curated meal. For reservations call 24322640.