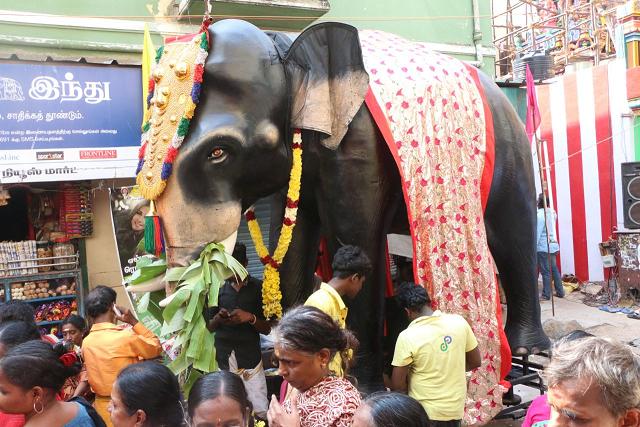 The team at Sri Selva Vinayagar Temple at Veeraperumal Koil Street, Mylapore wanted to do something different for the kumbabhishekam which was held on Dec 12 and 13. They decided to rent a life-size model of an elephant, it was part of the procession held on Wednesday evening.
The joint chairman, U. Shankar, says, "The elephant was rented for Rs. 8000 and was displayed outside the temple on Wednesday morning. An operator uses his computer to imitate the actions of a real elephant. In the evening, when the veedi purappadu was held for the deities Sri Murugan and Sri Vinayakar, the elephant rolled on in the front, spraying water, making noises and moving its trunk".
The 100 year old temple, which is conducting its kumbabhishekam after two decades, is managed by the Luz Anjaneya Temple at R. H. Road. An annadanam was held for more than 1000 people after the event.