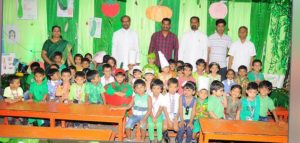 The past few weeks have been quite busy for the KG and primary students of Montfort Academy School, San Thome. Three events were held at their premises.
The first was 'Vegetables Day', held for KG students on Nov 17 (seen in the picture). The children, who came dressed like chillies and carrots dance and sung rhymes. Classrooms were decorated with drawings, creative craft was displayed on chart and foam boards. The special guests from San Thome Higher Secondary School were Rev. Bro. Arockiasamy, the vice-principal and Rev. Bro. Christy, the bursar.
On Nov 24, class I students celebrated Animals Day. The students wore animal costumes, their classrooms were modified into dens and caves to to help students understand the habitat of the animals.
Students of classes II and II also hosted 'Go Green Day'. The chief guests were Rev. Bro. K. K. Thomas, principal and bursar of Montfort School at St. Thomas Mount and Rev. Bro. John Xavier, headmaster and correspondent of St. Louis Institute, Gandhi Nagar, Adyar. Several models were displayed, most of them were made from waste and discarded material. A skit was also put up.