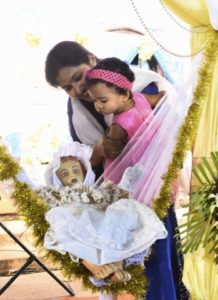 The San Thome Cathedral zone on Sunday night came alive towards midnight as people made their way to churches to attend Holy Mass and Christmas celebrations.
There are five churches on and off San Thome High Road, from the St. Bede's school end to Foreshore Estate end. All of them were illuminated and decorated for Christmas celebrations.
So were the schools that are run by Christian managements in this zone.
The new auditorium inside St Bede's School hosted the English Mass, which began with a session of Christmas carols by a choir. Attending the service were the chief justice of Madras High Court, Indira Banerjee and city police commissioner, A K Vishwanathan. They joined the 1000 plus people at this Mass.
The Tamil Mass was held in the open in San Thome Cathedral. The campus was packed and the main road jammed up as hawkers sold caps, balloons and snacks.
At this Mass, celebrated by archbishop Rev George Antonysamy and his brother priests, a cake was cut at the finale and shared with the congregation. It was past 1.30 a.m. when the service got over. It drizzled for a few minutes.
Services were also held at the CSI St Thomas English Church, the CSI St Thomas Tamil Church, Our Lady of Guidance Church on Lazarus Church Road, Our Lady of Light Church in Luz and Our Lady of Visitation Church on St Mary's Road.
Masses were held in most churches on Christmas Day, December 25.