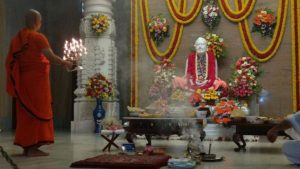 On Saturday, Jan 9, Sri Ramakrishna Math, Mylapore was packed with people, they were there to celebrate the 165th birthday of Sri Sarada Devi.
The day long event started with early morning prayers and included Lalitha Sahasranamam parayanam, a homa and bhajans.
At noon, prasadam was served to over 4000 people. The celebration ended in the evening with kum-kum archanai and a spiritual discourse.