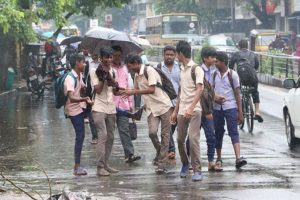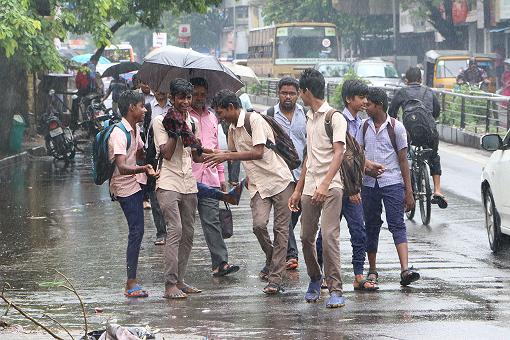 The monsoon season can be very upsetting for schools. State-declared holidays. Flooding in the neighbourhood. Children in wet uniforms. Affected classroom and exam schedules.  Many plans go for a toss.
The city's monsoon can be a good one at times, or unpredictable at most times. And this season, a season of cyclonic weather and rain, neighbourhood schools have had much on their hands.
So how do schools prepare for the monsoon season following the many experiences of the past?
At the Chennai Corporation School at Sringeri Mutt Road, Mandaveli, principal J. Dhanammal says his team kept three rooms on the ground floor of our school ready in case students and their parents needed shelter. "Since the rain was not severe, nobody came to us with any request to house them," he says. "During the December 2015 deluge, many students came to us since water had entered their homes and their note and text books had got wet."
At Chettinad Vidyashram, R. A. Puram, school principal S. Amudha Lakshmi says the management ensures the local drains are not clogged and blocks are cleared to ensure flooding is avoided.  "We also ensure that our rainwater harvesting system and our water recycling plant are in condition," she adds.
"This year, just before the students got back from the week long monsoon break, we made sure there were no issues with the supply of electricity. All the water tanks were cleaned and drinking water supply was checked. We also fumigated the premises. Sanitisers were used to clean the tables and chairs in the classrooms. The water that stagnated inside the school premises was pumped out into the Adyar river, " she explains.
At San Thome Higher Secondary School, school principal Bro. A. Stanislaus says they ask the general ground staff to clear any water that stagnates in the campus. He adds, " We ensure the classroom windows and doors are in condition. We have also water-proofed our terrace." The campus has a rainwater harvesting system, so water stagnation is minimal. A percolation tank-like structure has been planned in a spot where water was seen stagnating.
T. Ananthanarayan, the principal of P. S. North School, Mylapore says workers are asked to clean the terraces and pipes to make sure stagnant water does not cause leaks. "To compensate for the rain holidays, we work half a day on Saturdays," he adds.
At Sir Sivaswami Kalalaya Senior Secondary School, Mylapore, a staff member says teachers always plan their schedules for November and December keeping in mind disruptions. " Only a few exams had to be rescheduled this season," we were told.