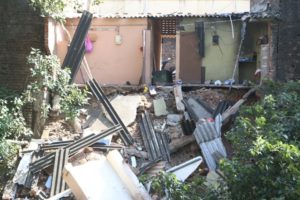 A few huts built on the banks of the polluted Buckingham Canal opposite Kalvivaru Street in Mylapore have collapsed after the soil on which they were built began to give way.
On Tuesday, at least two to three huts, part of the bigger slum colony on the eastern side of the Canal were seen abandoned, the flimsy walls and roofs having collapsed into the water and wild vegetation.
The banks of the Canal on the eastern side is heavily encroached upon.
Civic workers clean the Canal whenever the mosquito menace becomes intense or on the eve of the monsoon. But local residents and shops often dump waste into the water here.