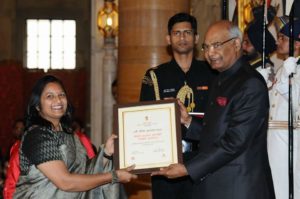 Anuradha Krishnamoorthy (seen in the picture) and Namrata Sundaresan, who run KASE based in Abiramapuram, have recently been awarded the 'Nari Shakthi Puraskar' by the President. The award has been conferred on them for their 'outstanding work towards women empowerment'.
Both the women traveled to the capital on Mar 8 to receive the award from the President Ram Nath Kovind and afterwards also met the Prime Minister, Narendra Modi.
'It was a surreal experience. When I first received the phone call, I thought it was a prank call', says Anuradha. 'Meeting the President and the Prime Minister was a wonderful experience. This really makes us want to do more in this field', she adds.