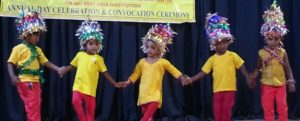 It was all about different kinds of dances at Mylapore based Mahima Cultural Center's annual day held at P. S. School, Mylapore recently.
The enthusiasm of the children was evident in all the performances, be it the traditional dances like karagattam and kollatam or the western dances like the cowboy and the batton dance.
Manju Bhashini, one of the partners who manages the play school says, "65 children have been preparing for this event for more than two months. For the costumes, we asked the children to bring the dresses they have as we did not want the children to spend exorbitantly for just a one day event. We then added accessories for a grand look. Our teachers made most of the accessories from recyclable material".
The chief guest was Wilbur Lee, a diplomat from the American Embassy.