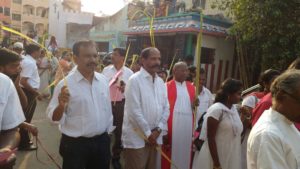 On Sunday, March 25, the members of St. Luke's Church, Mandaveli celebrated Palm Sunday with a special guest, Mylapore MLA Dr. R. Nataraj.
After opening the samaritan shop at Adam Street, Mandaveli, he walked with the procession from there to the church.
Actors dressed in colourful costumes followed the procession on a bullock cart, enacting a skit all along the way.