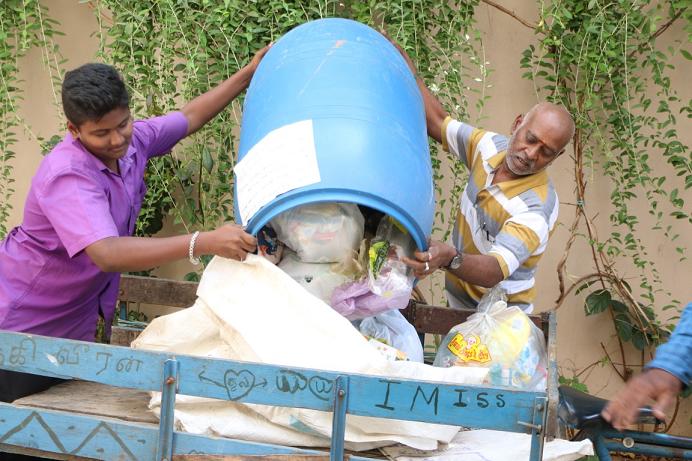 For years, the residents of Justice Sundaram Road and Rama Rao Road, Mylapore watched helplessly as their street corner turned into a garbage dump. Despite raising the issue several times individually with the Chennai Corporation and a private agency which clears waste, the eyesore and stink overpowered their lives.
The bins were overflowing, the waste spread across the street and often, the stench of rotting kitchen waste was revolting.
And then, some residents decided that 'self help' would make a change. However small the change would be.
In August of last year, the residents of four streets in that area, Justice Sundaram Road, Rama Rao Road, Ramachandra Road and East Abhiramapuram 2nd Street decided to come together to address the issues.
They formed a Whatsapp group and followed it up with a meeting. A name was given to their association, Myla Pure, coined by a resident, Baskar Seshadri, of Rama Rao Road. It was time to address the garbage menance.
C. R. Ashok, a resident of Ranga Road runs a business at Justice Sundaram Road. He says, "In addition to the garbage issue we also wanted to address issues like water-logging during rains and get the storm water drains cleared. We included RamKy ( private waste clearing agency) and other civic authorities in our group and kept them in the loop of what needed to be done. We also encouraged the residents to segregate waste."
The result is now evident – street-side bins do not overflow as often as before. Says Ashok, "The occasional hiccups continue but we see a change. It is challenging but a bin-less street is our goal".
Uma Subramanian, a resident of Justice Sundaram Road, says that over 90% of the residents at these streets are segregating waste now. Adds Uma, "In my apartment complex, all the residents have been adding their wet waste to a big gunny bag for more two months now. The first lot of that waste has broken down well and will be used as compost
for plants shortly."
The dry waste like paper and plastic, is collected once a week. Over 250 kgs of dry waste has
been handed over to the waste collector in 10 weeks. The waste-collector, also from this neighbourhood comes by to collect the paper, plastic and glass.
Uma and her neighbours are discussing plans to set up a compost pit in the locality. She says, "In our complex, we don't have too much space for a pit but we do plan to acquire a couple of
composting bins soon."
The community has other plans. Baskar Seshadri says, "We want our children to get together and paint
the public walls and residents to plant more trees."
Plus, set up a bench on the pavement – for seniors who want to sit down after a long walk or chat with friends they meet on the street.
If you wish to learn a few tips from this community or want to lend a hand with your own experience, contact Uma at 43535534.
<< IS YOUR COMMUNITY PRACTISING GREEN METHODS to deal with waste or beautify your area? Tell us your story. Ping Mylapore Times at 24660269. Or mail – mytimesedit@gmail.com