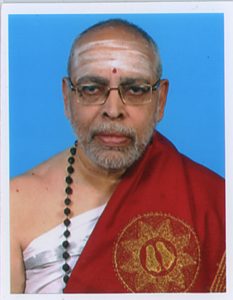 Well-known scholar, teacher, public speaker and writer Dr. Goda Venkateswara Sastry passed away on February 27. He was a resident of R. A. Puram.
Born in 1948, he belonged to Veginadu Brahmin family. He was the first son of Krishnaveny and Goda Narayanaiah. He completed his post-graduate studies in mathematics and got a doctorate in Advaita Vedanta from the Rashtriya Samskrita Samsthan.
He was a Kramanta-Svadhyayi in Rg Veda and studied the six angas of Vedas. He had undergone the study of Darsanas Nyaya, Yoga, Purva Mimamsa and Advaita Vedanta. He had also studied Veda Bhasyas of Rg Veda and YajurVeda.
He also had a firm grounding in the Samskrit sahitya. He had four Siromanis to his credit. He had taught the sastras to many disciples and guided many persons in their doctoral studies at various universities.
He also taught the Vedas, Veda Bhasyas and Sastras to his disciples and to people who were interested at various places in Chennai – Sankara Gurukulam, Bharatiya Vidya Bhavan and Sankara Vihar. He did this over the past 25 years.
Apart from the Vedas and Sastras, Dr. Goda Venkateswara Sastry was a Devi upasaka. He had the Purna Diksha from Br. Injikkollai Jagadeeswara Sastry, a doyen in Sri Vidya. He has given diksha to many disciples and guided them. Many books in Sri Vidya written by him have been published.
He had authored many books in Vedanta and other allied sastras . Some of the titles were – How to stop Ageing: A Vedic Approach, Dasamahavidya Rahasyam – an original work on the worship of the Divine Mother, Moksha Swarupa Vicharam – an Advaitic point of view on liberation, Durga Sapta Sloki, Advaita Siddhi – A Tamil translation and Sri Tyagesa Maharathotsava Varnana slokas: English and Tamil translations.
He was also decorated with many titles – among them the 'Advaita Vedanta Pracharaka Mani' by Sri Sankaracharya of Kanchi Kamakoti Mutt and 'Vedanta Chudamani' by Sri Jagadguru Badari Sankaracharya Samsthanam, Sakatapuram.
He had retired as an officer from Reserve Bank of India, Chennai and had worked as director, Viswamitra Maharshi Vedic Research Centre, Madipadu, Andhra Pradesh till Dec. 2005.
The family resides at No.3, Tiruvengadam Street, R. A. Puram.
Phone: 2461 1632