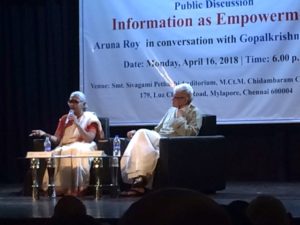 Sivagami Petachi Auditorium in Alwarpet was packed on Monday evening as people listened to social activist Aruna Roy highlight the journey that made to make the Right to information Act a reality. Aruna, who quit the IAS to join community activist campaigns was part of the Mazdoor Kisan Shakti Sangathan (MKSS) which spearheaded the RTI from Rajasthan.
On Monday, Aruna was in conversation with Gopalkrishna Gandhi, former diplomat and state governor on the theme ' Information is Empowerment'.
Aruna said that though the RTI Act was a reality she was worried at the oresrnt government bringing in rules to negate much of the provisions of this Act which was a great tool in a democratic country.
The event, organised by The Hindu Centre for Politics and Public Policy and Roli Books.
Aruna Roy's book – The RTI Story – Power to the People – published by Roli Books was formally launched at this event.