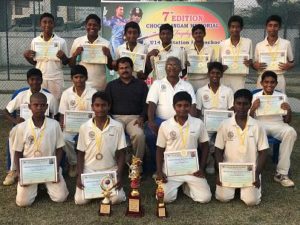 At the 7th edition of the Chockalingam Memorial cricket tournament for U-14 boys, the team from St. Bede's Anglo Indian School, San Thome (seen in the picture) lifted the trophy by beating the boys from St. Patricks School.
The winners scored a total of 210 for 4 in 50 overs as against the runners up who were all out for 180 in 48 overs.
They also won the TNCA B. Somasundaram Cricket tournament held in the city recently.