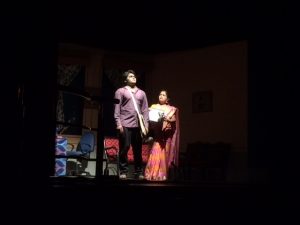 Everybody likes a taut play. The audience at Kartik Fine Arts' annual Kodai Nataka Vizha did on Sunday evening at Narada Gana Sabha auditorium.
The veteran theatreperson Augusto was presenting his new play, 'Nagamma Padasalai'  and Augusto is known for tossing crime and thrill and suspense into all his plays.
This Sunday evening, he ran two plays – parallelly on stage. One set, two designs, two set of artistes. Two stories.
One unfolded in the office of a south Tamil Nadu hotelier and the other in a senior advocate's home. Alternatively. And both were engaging. And well acted out. And the artistes and Augusto got many many rounds of generous applause from a packed Sunday audience.
So much so that regulars in the front rows betted that Augusto and team would grab lots of prizes on June 1.