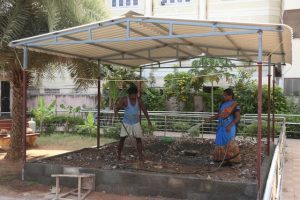 People using the Chennai Corporation park on Lazarus Church Rad will soon have a space where they can learn and practice yoga.
The efforts of Mylapore MLA, R. Nataraj hastened the process of leveling the ground inside the park and a platform as well as simple roof has come up and final touched being given to this civil work.
A request to the MLA for this facility was made by local residents and action followed.
This is a popular park, used by adults and children alike. The only sore side of this park area has been the waste dump bin zone outside the walls of this park – the bin often overflows and the place stinks.