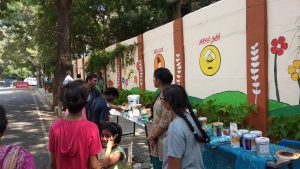 When the long stretch of the compound wall of R. A. Puram Corporation School, on Thiruveedhi Amman Koil Street at R. A. Puram needed repainting, the local residents welfare association TAKSRA decided to take up the activity and enhance the beauty of the street.
Balasubramanian and Ramkumar, the spirited members of TAKSRA, who have already made the street clean and green with beautiful plants and creepers, roped in Karam Korpom-SAPS (Stop Abusing Public Spaces), an NGO focusing on transformation through art and culture for enhancing the space further.
SAPS volunteers along with the residents and children from TAKSRA and R. A. Puram, got together on June 3 and painted the Corporation School compound wall with simple visuals and meaningful
slogans.
The wall art design was conceived to blend with the growing green bushes and creepers.
Children and adults together, under the guidance of SAPS artists, enthusiastically lent their hands to
make the wall colourful.
Karam Korpom-SAPS volunteers have transformed many public spaces into art corners in recent
months – including, Vinayagam Street, Dr. Ranga Road, Mundakakanniamman Koil Street, R.A.Puram 4th Street, Husainy School at Porur, Rathna Nagar Main Road, Ashiaana Compound Wall at Venus Colony, Chennai Corporation School walls at Maambakkam, Thousand Lights and Thiruveedhi Amman Koil Street.
Karam Korpom has a team of socially conscious art loving volunteers spread across different parts of
Chennai who come together and put their creative minds and efforts to transform public spaces for
better.
"In addition to our volunteers, we always involve children and residents of the respective areas,
so that they are also a part of the wall art creation and hence take ownership for maintaining the space in long run. Also, we sensitize the children about the need for keeping the public spaces clean and beautiful," says Uma Maheswari, the founder of Karam Korpom SAPS.
For more details on Karam Korpom-SAPS, contact Uma at 98840 32182 or visit
www.facebook.com/sapschennai.
Photo, report by Shivkumar S. / founder of Karam Korpom-SAPS