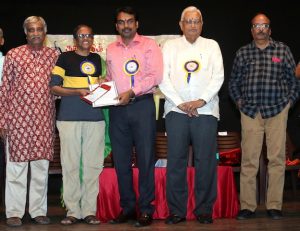 Theatreperson Bombay Chanakya was honoured with the Kartik Ramanujam Award of Excellence at the 29 th Kodai Nataka Vizha award distribution function hosted by Kartik Fine Arts at Narada Gana Sabha Hall, Chennai on Friday (1.6.18) evening.
Seen in the photo – left to right – Rajagopal Sekar, sabha secretary, Bombay Chanakya, Rangaraj
Pandey (chief guest), K. M. Narasimhan (president of sabha), Venkat ( guest of honour).
That evening, awards were also presented to artistes and technicians for the bests chosen at the sabha's annual drama festival held in early May.