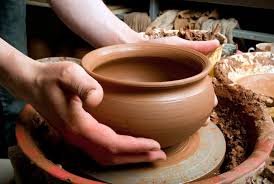 ART
POTTERY: Get hands-on experience on pottery wheel. Learn the techniques to shape the earthen pots from S. Thiyagarajan. The basic one-month certificate course begins on July 7 from 4.30 p.m. At Wandering Artist, 51, 6th Main Road, R.A. Puram. Ph: 9500042435.
MADUBANI PAINTINGS: Painting classes on Madubani, coffee, knife and Kerala mural are being conducted by Kavitha, art teacher based in Anna Nagar. Registration is mandatory.  The classes are on till July 3 at C P Arts Centre, Eldams Road, Alwarpet. Ph: 9380901733
DANCE / DRAMA
MIRA BAI: A bilingual Kathak dance drama in English and Hindi by Devaniya. On July 7 at 6.30 p.m. At R. R. Sabha, Mylapore. For donor passes call: 9500081290, 9940055892.  
'WOMEN AT WAR': Crea-Shakthi is presenting 'Women at War,' a play depicting stories of women and their daily battles. It highlights how the women had not been given their due representation in the history. The play tells about the story of three women who had fought for India's freedom. The play runs for 100 minutes without intermission. Open to people who are 15 years and above. At Hari Shree Vidyalayam Auditorium, R. A. Puram, on July 1, 4 p.m. and 7 p.m.
ZUMBA CLASSES: Kalaa Manjari is organising Zumba dance classes for adults on Tuesdays and Fridays (8 classes a month) at Rs. 1800 per month. The classes will be held at Kalaa Manjari, Venus Colony, Alwarpet. Ph: 9840421305, 24312676.
SHOPPING
FASHION, LIFESTYLE PRODUCTS: The Pehnava exhibition is an expo on clothing, jewellery, home decor footwear and more. It showcases brands from Kolkata, Ahmedabad, Mumbai, Bengaluru, Coimbatore and Chennai. At Crowne Plaza, Alwarpet, on July 5 from 11 a.m. Ph: 917664005.
TUSSAR SARIS: An exhibition-sale featuring distinctive block printed Tussars from Kanishka's Kolkatta will be held at Samasta store, 29 C.P. Ramaswamy Road, Alwarpet, from July 5. Ph:42721110.
SUMMER CLOTHES: Sajan's is presenting women entrepreneurs who display their products that include semi-Banarasi silk, linen and Bengal handloom saris, Indo-western kurtis and palazzos and hand-made jewellery. On till July 3 at C P Art Centre, Eldams Road, Alwarpet. Ph: 9884181835
MISCELLANEOUS
CAR RALLY FOR WOMEN: The Duchess-IOC All Women Car Rally is back – the rally is run by the Duchess Club and organised by a team of Madras Motor Sports Club. The theme for the rally is 'Say No to Plastic.'  Each team must have four women and the rally would be held in expert, regular, novice duchess, family and BOB categories.  Flag off at Savera Hotel on July 8 at 9 a.m. The entry fee per car is Rs. 1000 plus taxes. A briefing session for participants will be held on July 6 at the hotel. Ph: 9841288631.
NGO'S BEST: Hand-made products such as baskets, cushion covers, tablemats made by women from THE BANYAN, an NGO, are on sale at Chamiers Gift Shop, Alwarpet on June 30 and July 1 from 11 a.m.  Ph: 24311495.
SUNDAY KUTCHERI: Twelve-year old US-based Aadhya Sridharan will present the 'Sunday Kutcheri,' a monthly mikeless kutcheri organised by Sundaram Finance. A student of Vijayalakshmi Balaji, Aadhya will be accompanied by V. Sai Priyadarshni (violin) and Anirudh Sriram (mridangam). At Nageswara Rao Park, Luz, on July 1 from 6.30 a.m.