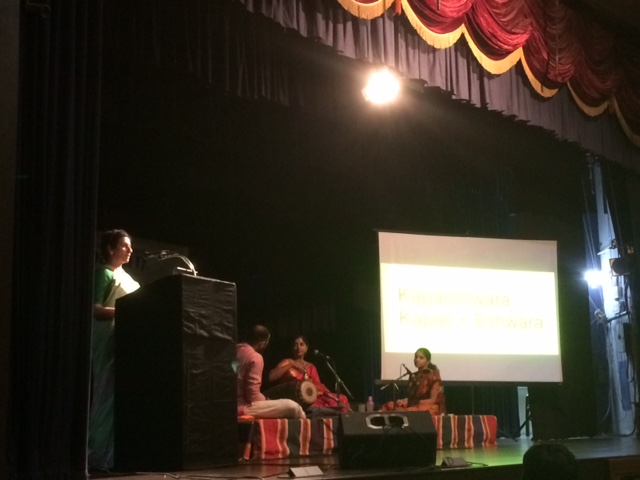 It was a full house at Bharatiya Vidya Bhavan on Monday evening – the launch of Bhavan's Aadi festival series marking its continued diamond jubilee celebrations.
The launch event was a talk-music presentation on Mylapore's Sri Kapaleeswarar Temple. Its origin, its place in religious literature, its architecture, saints associated with it, the music on its gods and its unique festivals.
Scholar Dr Chithra Madhavan was exhaustive as she always is – flooding the screen with a stream of visuals. And in between vocalist Nisha Rajagopal sang, the songs on the temple and its gods and saints. Music and words and images meshed well for this 100-minutes event.
Chithra spent much time on the sculptures and architecture of the temple – spending over 20 minutes on the huge variety of stucco works set into the tall east gopuram of the temple, showing closeups of every version of Nataraja, Ganesha and everything around.
"Most of us just rush in to pray, ask for favours or make an offering . . .we don't stop to look above at the wonderful works the temple holds," said the scholar.
And went on to present on the screen visuals of the smallest carvings on stone on both entrances of the temple.
"If we talk at length on this temple we may have to stay here till midnight," said Chithra, as an aside. Most people sat tight till the end and when they came out were treated to a double prasadam, courtesy Bhavans.
The Aadi fest of discourses, Harikatha and music runs through the week, 6.30 p.m. daily and is open to all.