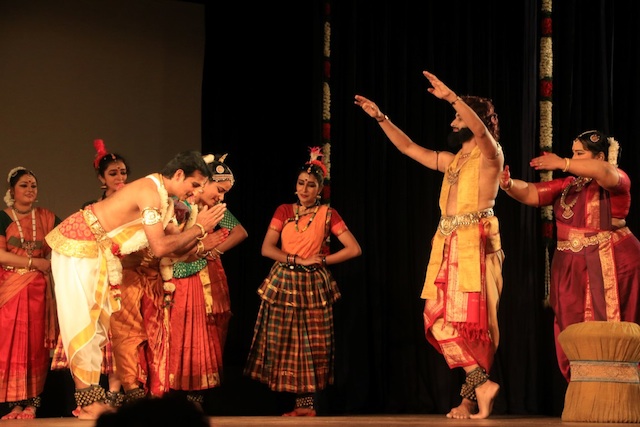 Narada Gana Sabha's auditorium was the stage for a wonderful dance production that came alive to the music, dance and heritage of south India.
On Sunday evening, over 70 dancers including tiny-tots and seniors took  to bring to life south Indian arts with the direction of senior dance guru Vasanthalakshmi Narasimhachari.
It must have been an emotional moment too for this guru whose academy is based in Alwarpet – for this production for International Dance Alliance (IDA), managed by gurus Radhika Surajit Shurajit and Revathi Ramachandran was an expression of the art and music of guru Narasimhachari, her husband who is no more. She added her ideas and fleshed it out.
The dedication to Narasimhachari was indeed a true expression of love and respect for this creative guru.
The production was based on Ainthinai of Sangam literature – the five landscapes of the country, and meshed with music and dance that visualised the geography as well as life.
Performed to recorded music with songs from all the regions, the 90-minutes performance had a big audience and received repeated applause.
Mounted on a big budget it was thanks to arts patron Nalli Kuppuswamy Chetty that it came to life as IDA revives itself too. This is production that needs to tour despite the costs and logistics. One show isn't enough.